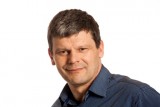 Professor Foundations of Entrepreneurship & Ideation and Venture Creation
Kris Vander Velpen holds an MBA from Cornell University and a Business Engineer degree in Computer Data Processing as well as a Bachelor in Thomistic Philosophy from KU Leuven.
Kris is now an independent consultant, building and implementing tailor-made top-line growth practices within major companies (Deloitte, Picanol, Exmar, Alcatel-Lucent, J&J, OCAZ,….) as well as executing ad-interim key positions within governmental bodies (Advisor Flemish Minister for Economy, Science and Innovation, ….) or fast growing companies (Vulpia Group, VTD,….).
He was formerly responsible for Fortis Venturing on a global scale and therefore board member of different intrapreneurial and entrepreneurial companies. Furthermore, he is affiliated professor at Flanders Business School and visiting professor at Vlerick Business School, AMS and Erasmus Rotterdam (NL)).